In this cyber age, being an internet user, it is predicted that everybody is mindful of the fact that Facebook is the largest social media these days. Nowadays, many users are complaining against Facebook that, their account is getting chopped. This fact has raised a question about the security system of the site. You'd possibly get surprised after realizing the fact that to hack somebody's Facebook account is quite a simple process now and a person with a nominal understanding of the Facebook can accomplish it. Recently, a lot of people are interested to know how to hack a Facebook account.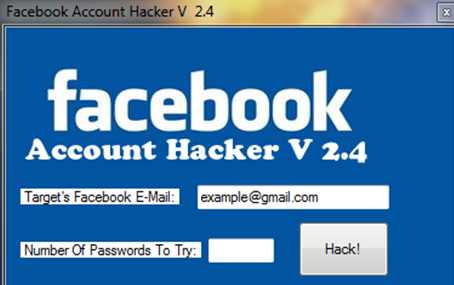 The process to hack a Facebook account is quite easy. It is actually an acceptable fact that there are many things that the users always want to know about the lives, safety, and holiness of their dear and closed ones. Today, the technology has converted it to an easy process to them.
Several people apply their single method to hack a Facebook account without software which is known as the simplest way of hacking. This method is yet too much easier in case. The first thing the user needs to do is to use their primary email address to log on to Facebook. You will be eligible to hack a Facebook account without any cost; by simply using the option forgot your password.
Moreover, if you are able to hack the email address of the person, whose account you need to hack, you are eligible to hack his or her Facebook account free while by having some transactions.
Moreover, on that point are numerous companies who offer Facebook passwords hacking software are which are mostly projected by using such advanced technology. They can offer the users' details and their several kinds of unknown variables. The process is equally uncomplicated. You simply need to follow a set of instructions available in order to hack somebody's Facebook account online. In most of the cases, the Facebook hack can be done only within two minutes.