abu dhabi nurseries schools offer a whole range of facilities that integrates academic and intellectual learning. Between the ages of 0-6yrs, a child's brain undergoes rapid physical and mental development. The early formative years are critical to the development of intelligence, personality, capability to handle emotions and social behaviour.
You may be looking for nurseries in Abu Dhabi that offer an interactive pedagogical platform. A good nursery will usually have a comprehensive curriculum focussed on age appropriate skill building. Some of the amenities that you should look for while searching for your child's play school include: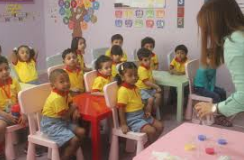 – Outdoor play area- Walking, running, climbing, swinging are exercises that promote development of gross motor skills in toddlers. An exposure to outdoor activities will help promote their muscle strength and motor development. Nurseries are equipped with playhouses, swing areas and splash pools for involvement in physical activities.
– Classrooms- Children seek comfort and happiness in a safe abode. Classrooms should ensure physical space; creative corners; educational toys and books that are adored by the tiny tots and easily grab their attention. After all, you wish that your child looks forward to attending school regularly.
– Indoor gym- Indoor play gyms are designed to allow children to stretch and manoeuvre their bodies. Dancing, exercising and playing with their peer group will improve their social skills as well.
– Dining area- An interesting part of a day in school is the meal time when kids enjoy their favourite food. To maintain uniformity, most nurseries have in-house pantry, serving meals. A good nursery will update you on the monthly food menu recommended by a nutritionist to ascertain daily nutritious intake and promote healthy eating habits among pre-schoolers.
– Clinic- Toddlers and pre-schoolers easily catch infections. A clinic with qualified visiting doctors, who conduct regular dental check-ups and can provide immediate medical assistance in case of an emergency, is a must have in your child's nursery.
Nurseries that feature holistic learning and nurturing facilities are preferable!